ESSENTIAL FUNDRAISING NEWS.
The Grand Opening of the school is now a few months away, and we earnestly hope and pray we shall be ready. There is a lot to be done, and we desperately need to raise money to ensure the school will be ready on time.
The charts below show how much we need and in what area.
This school is an investment in the future of The Gambia. All money will be gratefully received and put to good use.
PROJECT A: FIVE (5) CLASSROOM BLOCK & AN OFFICE
This building is already constructed and roofed. The school needs financial assistance on the
following items to fully complete the project.
ITEM/DESCRIPTION

AMOUNT

TILING

D56,250.00

Painting

D45,000.00

Electricity

D25,000.00

Office ceiling

D2,750.00

Office windows (3) & door(1)

D3,000.00

Furniture

D115,000.00

Total

D247,000.00

Labour (20% of total)

D49,400.00

Grand total

D296,400.00

(US $8,705)

(GB £5,721)

(Euro 6,691)

Exchange rates may vary
PROJECT B: SIX (6) CLASSROOM BLOCK
As the school is growing fast , this block is intended to house the extra classes to be enrolled next
academic year. The foundation has already been dug but no extra work has been initiated yet.
See the billing quantity below.
ITEM/DESCRIPTION

AMOUNT

Foundation

D50,000.00

Structure

D60,000.00

Roofing

D200,000.00

Doors/windows

D75,000.00

Electrical fittings

D50,000.00

Tiling

D60,000.00

Painting

D50,000.00

Furniture

D135,000.00

Total

D680,000.00

Labour (20% of Toatl)

D136,000.00

Grand Total

D816,000.00

(US $23,964)

(GB £15,752)

(Euro 18,420)

Exchange rates may vary
PROJECT C: WATER SUPPLY
This is essential as the school is currently acquiring water from a neighbour, which is a temporary arrangement. The school would appreciate assistance in meeting the financial obligation of acquiring its own permanent water supply from NAWEC. The application has been done and approval have been given. See cost below .
ITEM/DESCRIPTION

AMOUNT

Cost of water

D20,000.00

Laying of water pipes

D5,000.00

Construction of taps

D5,000.00

Total

D30,000.00

Labour (20% of total)

6,000.00

Grand total

D36,000.00

(US $1,057)

(GB £ 694)

(Euro 812)

Exchange rates may vary
The school is proud to be able to offer educational opportunities to families of all means. However, although we employ strict fiscal policies to maximise what income and capital we possess, it is necessary to raise funds through established activities that are sustainable and of sound social and economic sense.
The following message from Pastor Francis Gomez lays out the vision for what is now called .....
PROJECT FISH.
"Despite living here in The Gambia all my life, I have only just realised that almost 89% of the fishermen that supply our shores with fish are foreigners. Many are from Senegal, while others are from Ghana and other countries. It came to my notice during a festival time in Senegal, when many fishermen left to take part in the feasts that accompanied the festivals. During this period, fish in The Gambia were scarce, as not only did the fishermen leave, but they took a lot of their fish with them.
This year, I arranged for some Gambian boys to be taught by the fisherman how to fish properly. This was successful, so we are now seeking to build our own fishing boat. If we are successful, then due to the income generated by the boat, we should be able to build a second boat after just one year. If it is a good year, then it might be possible to add a third boat.
Not only will these boats bring in income to assist with the education of the children of The Gambia, it will teach young men valuable skills that will enable them to contribute to the economy of the country as well as support their families later in life."
Pastor Francis Gomez
Here you can see the start of the building process.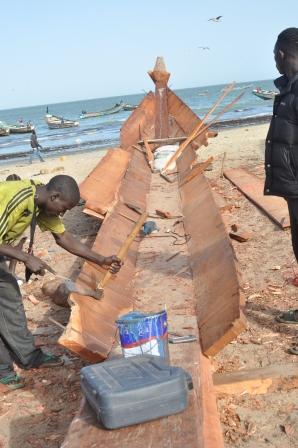 This is the finished product - ready to be painted and then put to work.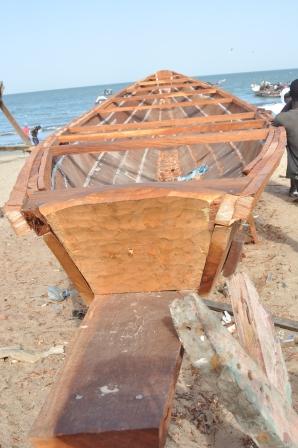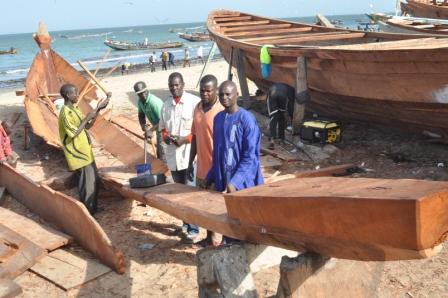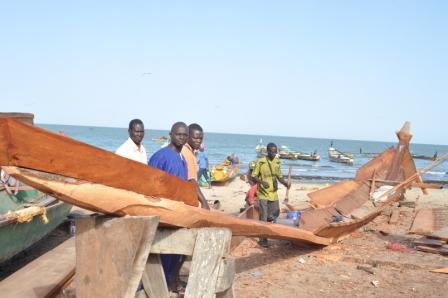 All we need now is a crew.....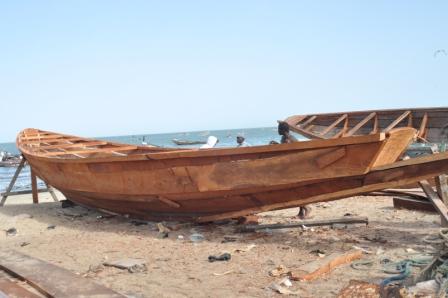 This project will not grow by itself, we really need your help to pay for the boat.
If you can see that there is enormous value to both our school and the country in this project, then we ask you to give generously of anything you can afford. Our children need every bit of help we can give them, so no amount of help you can give us is too small.
Send your donations to:
ABBA INTERNATIONAL SCHOOL
Brusubi Institutional
PO BOX 34
Banjul,
West Coast Region
The GAMBIA
Thank you